During the holidays, I got the chance to go back to my Dad's church, Templo Hispano Bautista to preach. They had set up a great play and songs. It was a great service... and I was so nervous. So very nervous that I don't even have the words to properly describe how scared I was. Never in my wildest dream did I ever think I would be standing at my dad's church preaching... but I must admit it was an honor to share with my Brother's and Sisters... The Briam of long ago would not have though so, but then again, I am not who I used to be.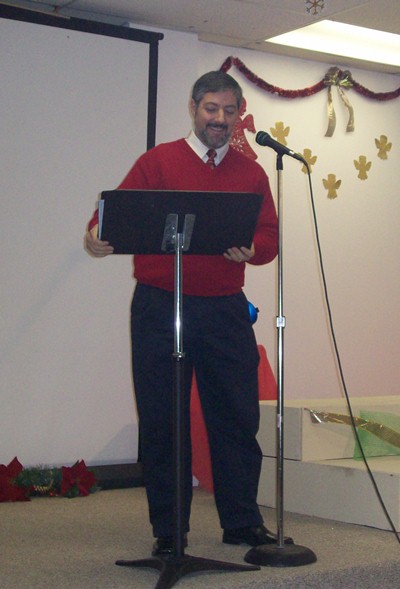 So many people say they love God… but so many of their lives don't really reflect this. So I sometimes look at my own life and am saddened by the times when I also neglected or replaced God with mundane things… but does that not much more exemplify God's Love and Grace for us, that He does not give up on us?
A couple of years ago, a prayer started in my heart and has been growing as God has been growing me. God first moved us from the only church I had known all my life… where we were serving and everything seemed to be so comfortable... and the prayer started… God would put us to service in Rockdale and in Lakeview… and the way I saw God started to change… a year later, God would be flying me in to a hurricane in Cuba… and the prayer grew. He would show us His power and Love as buildings toppled around us and there was no food to be found… and the prayer grew. God has taken me to so many places … (some of them right here in Conyers)… Different countries… Different people… but HE, the one and only God has never changed.
My prayer keeps growing… not just in words, but in dept of personal meaning. These words are no longer just a collection of letters, but a longing for a way of life that I wish to give to Christ.
…God
…bring on the storms, for You use them to help me grow closer to You…
…break my bones, my flesh, and my pride, so that I may depend only on You…
…destroy these meaningless trinkets in my life that I put ahead of You, so that I may be useful to Your purpose…
…shorten my life… take away these days that I waste without You in them, for they only distract me from You…
…Lord, tear out of me the things that offend you…
…Lord, mold me in to who You want me to be…
…Lord, help me to stay in the center of Your will, whatever that may be…
....Lord, help me to give all the glory to You.
…Your Will be done…
Comments