Ah finally made it to first grade!! Of course Matthew says its old hat now. He has his own alarm clock. He gets ready all by himself. He focuses on getting the work done. But what does he miss while he is out and about? ...What are his sisters up to on days they don't go to school?
Well, maybe some days are more exciting than others... but we always feel that when we are not there, was the day that they did the coolest thing ever!! This day was just about towers.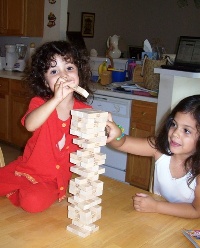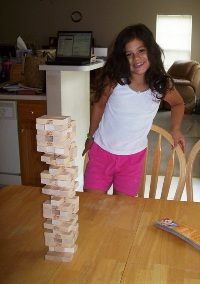 The girls did play some nice games while Matthew was out. I guess they needed to practice a bit so that they could surprise him with their mad ninja like skills when he got back. Of course like all fun games... the inevitable happens.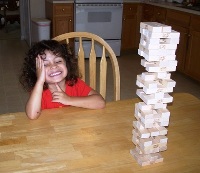 Once the blocks come crashing down... some smiles turn to frowns. But I am hopeful that they will recover and live to play another day. Because this too shall pass.
Comments
1. marcus said...
Hola tio como esta?, espero que esten bien todos por aya, bueno yo le escribo para saludarlos y mandarles muchos abrazos. veo que ya los chicos estan grandes, sobre todo sofi que la veo mucho mas crecida que cuando yo estuve aya, que bueno que todos esten bien, espero que les siga llendo mejor y que haya amor en su casa y siempre este Dios eb uds. Los quiero mucho saludos a todos por aya.... bye