How often do we not do the right thing? Sure its easy not to kill people... or rob banks... Things most of us would never do. Its easy. We just dont have to do anything. Sometimes I think we take the easy road just because its less work, not because of right or wrong. Are we just basically lazy?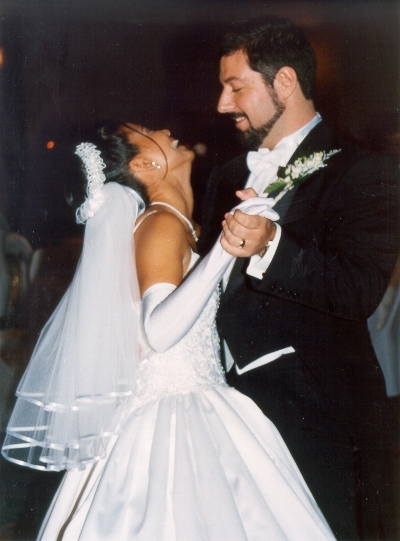 (A picture from our wedding)
Last week I was thinking of some nice things about my wife, and how blessed I am, and a thought passed my mind. Why don't I tell her.... a simple sharing of good though can make a persons day. So why don't we do it more often? I need to ... I have too many people that I love in my life not to share my good thoughts with them... This is what I wrote about my wife:

Eight short years of marriage and I still look at my wife like we are on our honneymoon...
...Its hard that a day goes by where I dont wake up and look over at my beautiful wife... she makes me feel giddy like a little school boy. I see her in her peaceful sleep...and I can actually feel my heart skip a beat...often I wonder what in life I did to even come close to deserving this life... shortly there after I thank God for my blessings..
...I know that true love does exist.... I live it...
Comments
1. mama said...
Oro que siempre veas a tu esposa con esos ojos.
Nuestra familia ha sido y es bendecida por Paola.
Ella es la esposa que tu necesitas, y espero que nunca dejes de valorarla.
Les amo mucho. mama