They look so cute and innocent.... no not the kids... the snow men. Paola loves them... and I think they are up to no good. I have seen them whispering things to the kids... asking them to break things... and eat candy.... I am sure the kids would not be doing these things if someone was not putting them up to it....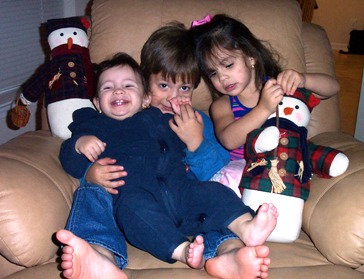 Sophia is still safe from their influence... today she was saying "Mama... and Mami..." .... she no longer seems to have any interest in saying "Papa". I must remember that... and deduct it from her allowance when she is older.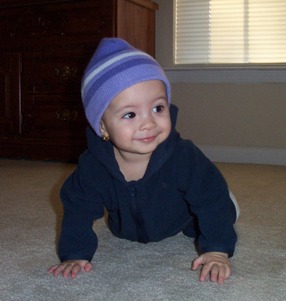 She is still not walking ... but that that is ok...that gives us more time. So we can catch our breath. My brother and Sister (should be) are in town!! My dad and brother came by for a quick visit. We hope to see them some more during these holidays. Yeay!!
Comments
1. Javier Pino said...
Me parece excellente tu pagina, tus ninos van a estar encantados cuando puedan verse en ella.
Felicitaciones por tu gran y buen disenio.

Familia Pino