Here is princess Megan this past Sunday. All decked out in here princess dress. And of course what outfit would be complete without the matching bow. That's right... the pink bow on top.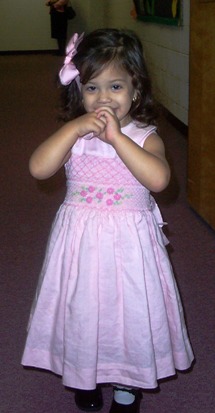 The Bow ..... That Bow kept falling off.... almost too many times to count. At first its like "oh well" and you put it back on .... after six or seven times you start to wonder why you would even keep that bow around. Maybe you could just put it away and stop using it. But no, "The Matching Bow" has power over the Mom. And the Mom has power over the Dad. ....so the battle went on all day... "Where is the bow?" oh ... it fell again. Put it back on.
The last thing my wife told me that night was, "Hey ... where did you leave the Bow? You didn't loss it did you?" ....no ... we still have the Bow.. and I can't wait until we have to use it again... :-(
Comments
1. Paola said...
You know...people say you are funny...and you truly are....(well, that is one of the reason I fell in love....you made me laugh...and you stil do)...

I love to read your blog and it is awesome how it keeps our loved ones connected....especially those who are far or over seas... : )