So, there we were in Havana. We had eaten well, and it was a beautiful day. No one we met that day seemed to know anything about the incoming storm (Ike) that was heading to wards Cuba. The strongest hurricane to hit Cuba in 50 years was just a day away. The government had not yet publicly put any information about it on the news yet. We had a few hours to kill so we got a chance to drive around a bit, and even visit a museum. There was a museum located at Revolutionary square.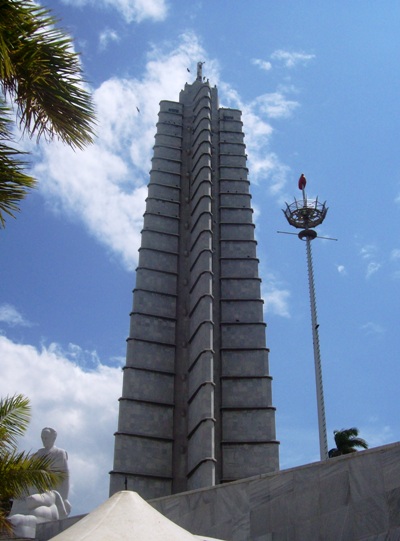 We did get separated for awhile (Kennon and I from the rest of the group) and would later meet up with them at the airport. It did give Kennon and I a chance to take one of the little open taxi cars. That in itself was quite an adventure. In traffic you could practically reach out and touch the big trucks and busses that flew by.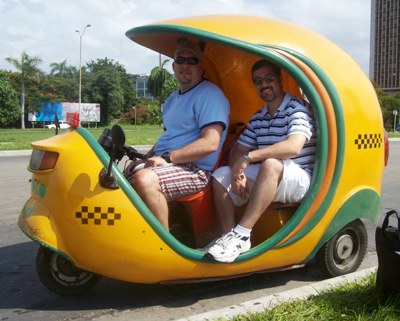 Our taxi driver was named Roberto. We got a chance to talk to him and he shared with us about his wife and child. They were pregnant again and his wife was changing careers. She had been teaching English, but switched over to Taxi driver since there was more income (due to tips). We did have a chance to share with him about our faith and what we were doing in Cuba. I hope they are doing well... and I pray that he read the tract we left him.
We arrived back to the airport and waited for the rest of the group. It would not be too much longer until they got there. The interesting thing was that we really did not have tickets to fly that night. And the booking/airline systems that they used were very antiquated. I think this added to our issue on getting an early flight since tickets had already been issued for a morning flight (and we did not have them yet). We got a chance to chat with a nice lady at the airport who pulled a lot of strings to get us some tickets (she did risk a lot making these changes for us).
And then there it was on the news: Ike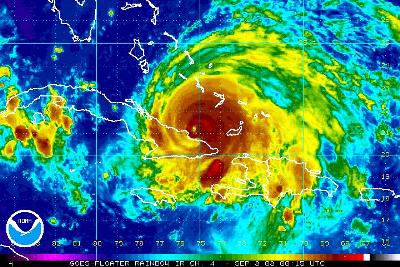 (Well, this would be the following day actually) It was now public Cuban knowledge that a hurricane [class four] was heading straight for Cuba. We still had a green light on the flight to Holguin but they were sure flights were going to start canceling soon. The happy go luck tourist feeling was starting to slip away. What plans did God have in store for us?