Some days seem much longer than others... and normally its because of what fills it. The day had a lot of promise right from the beginning. The rain was stopping for a few days. The kids were sleeping a little longer because they are worn out from the swimming classes. Sophia was feeling a little better. She has been suffering from a slight ear infection, but it was passing.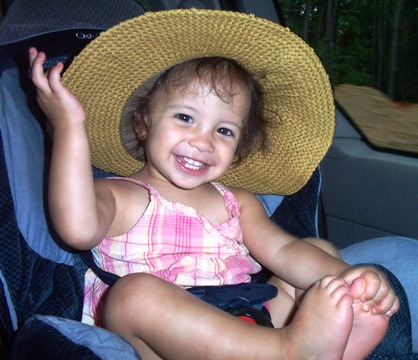 So, I was trying to get up for work... but it was hard to, because the bed kept calling me. Oh sweet blissful sleep. The only thing I was missing was the quiet part. Thats when the wake up crew arrived. Sophia and Megan were the first to arrived. They did not hesitated to make all kinds of noises to try to get me out of bed... but I just pretended I was asleep.... hoping they would give up.... but they didn't.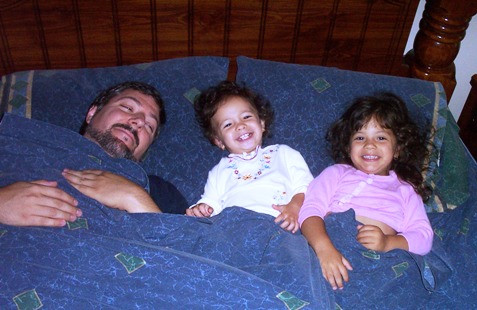 ...shortly after this peaceful picture, it was all jumping and hitting until I got up. And off to work I went. I wanted to get as much done as I could at the office so that I could rush home.... why? ...because I love my family.... and the Matthew's new bedroom furniture had arrived. Matthew is now big enough to get a bigger bed. And get his own room. So Sophia is now moving in with Megan, and Matthew is moving to Sophia's old room. I rush home and work feverishly to put together all of Matthew's new furniture.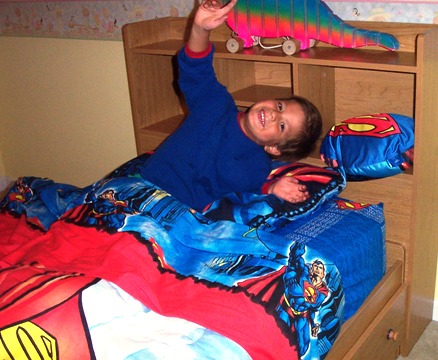 And of course we had to get Matthew a cool new Superman theme for his bedding. Along with that we had to get Megan the princess theme bedding so we would not start another civil war.... We are still trying to recover from the last one...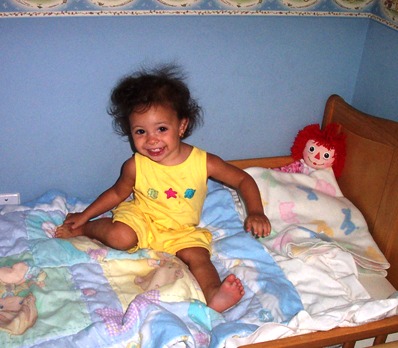 So what to do with Sophia. She has already jumped out of her crib a few times, so she too was ready for a toddler bed. She seems all excited and playful when everyone is awake and she is on the bed... but when it is time to sleep.... she doesn't think play time is over!! I guess it could be worse, but the one that is really suffering is the roommate Megan. The other downside is that now when Sophia wakes up... she is not in a cage... and free to come complain!!